National Museum of Finland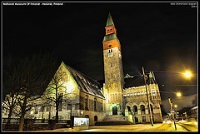 National Museum © Urko Dorronsoro
History enthusiasts will enjoy the National Museum of Finland in Helsinki, which depicts Finnish life from prehistoric times to the present. Housed in an impressive Romantic-style building, it looks a bit like a castle. The museum's permanent exhibition is divided into different sections: the Treasure Trove, which is a display of coins, medals, and weaponry, while the archaeological section features some rare Stone Age finds. In addition, the cultural heritage collection displays folk costumes, textiles, and furniture. The Workshop Vintti offers an exciting interactive approach to history, letting you sit on a throne, saddle a horse, or build an authentic Finnish wall. Other highlights include the section on the Vikings and the exhibition on jewellery through the ages in Finland. One common criticism of this otherwise popular museum is that there is not adequate coverage of the Finnish wars, which may be a disappointment to military history lovers. The museum has regular temporary exhibitions as well as the extensive permanent collection but these usually carry an extra cover charge. The rich history of the Finnish is relatively unknown to outsiders, which makes this museum especially intriguing. The museum also has a cafe and shop.
Address: Mannerheimintie 34
Website: www.nba.fi/en/nmf
Telephone: (295) 33 6000
Transport: By foot (10 minute walk from Central Station), by tram or by car.
Opening times: 11am-6pm Tuesday to Sundays, closed Mondays and public holidays.
Admission: EUR 10 for adults, concessions available, free between 4pm and 6pm on Friday.