Harbour Bridge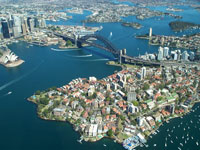 Sydney Harbour aerial © Rodney Haywood
One of Sydney's most famous landmarks, the Harbour Bridge (known locally as the 'Coat Hanger') was completed in 1932 after claiming 16 lives during its construction. The bridge spans the 1,600-foot (500m) gap from the north to the south shore, which was previously only accessible by ferry, and accommodates pedestrian walkways, two railway lines and an eight-lane road. Visitors can experience the bridge in an adventurous way by climbing to the top as part of an organised group for breath-taking views and a feeling of personal achievement. For the less daring, 200 steps lead to the Pylon Lookout for equally fantastic views at 285 feet (87m) above the water, with three levels of exhibits on the way up depicting the history and construction of the bridge. The Pylon option is better for those afraid of heights, although stomachs will still drop!
Address: 3 Cumberland St, The Rocks
Website: www.bridgeclimb.com
Telephone: BridgeClimb: 61 1300 90 80 57; Pylon Lookout: 61 9240 1100
Admission: Prices vary according to activity, time of day and season. Check the official website for details.