Cabo de Gata-Nijar Natural Park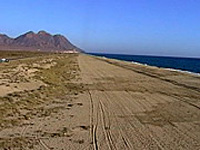 Cabo de Gata Natural Park ©
A lighthouse stands at the tip of the Cabo de Gata peninsula, north of Almeria city, marking the extremity of Andalusia's largest coastal nature reserve, a fascinating landscape cocktail of arid desert, volcanic mountains, jagged sea cliffs, sand dunes, wetlands, a lagoon, and hidden sandy coves. Mountain bikers, hikers, bird-watchers and water sports enthusiasts of all persuasions get away from it all in this natural wonderland, which encompasses some quaint fishing hamlets, historic ruins and magnificent stretches of beach.
The park encompasses some stunning and unusual beaches: two of the most popular are Playa de Monsul, which has picturesque volcanic rock formations, and Playa de los Genoveses, which is within walking distance of San Jose. Tiny rock islands cluster off the rugged coastline and there are extensive coral reefs along the shore. The salt flats between the village of San Miguel and the Cabo de Gata point are home to thousands of flamingoes, a delight for bird-watchers. The abandoned mining villages around Rodalquilar are interesting and slightly spooky to explore. The small Morrish town of Nijar is incredibly picturesque and the best place to seek out arts and crafts. The Cabo de Gata-Nijar Natural Park is a paradise for photographers because of its unworldly and unique landscapes.
Address: The park can be accessed from the village of San Miguel de Cabo de Gata.
Website: www.parquenatural.com
Telephone: +34 950 160 435