Fashion Museum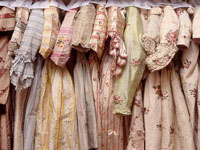 Bath's comprehensive Fashion Museum brings alive the story of fashion over the last 400 years, from the late-16th century to the present day. The huge collection is fetchingly displayed on hundreds of dummies, providing a chronological journey through changing styles over the centuries. Visitors can listen to an audio tour or take part in a conducted guided tour of fashion through the ages. A highly popular attraction that will appeal to visitors of all ages and from all walks of life, you should budget about two hours to do the Museum justice.
Address: Bennett Street
E-mail: fashion_enquiries@bathnes.gov.uk
Website: www.fashionmuseum.co.uk
Telephone: 01225 477282
Transport: The museum is a 20-minute walk from Bath's train station. Alternatively, numerous public buses have scheduled stops on Bennett Street
Opening times: Open daily, from 10.30am to 4pm (November to February); and 10.30am to 5pm (March to October). Visitors must exit the museum an hour after these closing times.
Admission: £7.50 (adults); £5.50 (children under 16); Free for children under 5 years of age