CN Tower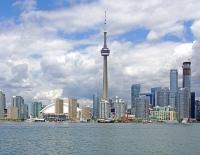 CN Tower © Dennis Jarvis
Standing 1,815ft (553m) high, Toronoto's landmark CN Tower was the world's tallest building until 2007, and remains a celebrated icon, an important telecommunications hub and the centre of tourism in Toronto. About two million people visit the tower each year to take in the panoramic view and enjoy all its attractions. The tower was built in 1976 by the company Canadian National, who undertook the project to prove the strength of Canadian industry and solve the city's communication problems. Since then tourist attractions and facilities have been added, and the revitalised tower opened to the public proving a hit with locals and visitors alike.
The tower has four look out levels. At the first, at 1,122ft (342m), is an outdoor observation deck with a spectacular glass floor; somewhat higher at the next level is an indoor observation deck and the Horizon's café, offering light meals high in the sky; at the 1,150ft (351m) level is a revolving restaurant, which rotates once every 72 minutes, allowing a stunning view of the city below while dining on the award-winning fare; finally comes the top level, at a dizzying 1,465ft (447m), known as the Sky Pod. At the top of the CN Tower visitors stand on one of the world's highest public observation decks. The tower is situated in the heart of Toronto's entertainment district, on the north shore of Lake Ontario.
Address: 301 Front Street West
Website: www.cntower.ca
Telephone: (416) 868 6937
Transport: Union Station
Opening times: Open daily 9am to 10:30pm
Admission: General Admission: C$35 (adults), C$25 (children aged 4 - 12). Special deals and discounts available if booking online.