Jane Austen Centre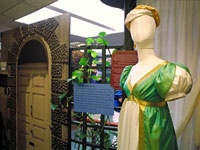 Bath's best-known resident, Elizabethan novelist Jane Austen, is celebrated in this permanent exhibition which showcases her life and work. Bath was her home between 1801 and 1806, and her love and knowledge of the city is reflected in her novels Northanger Abbey and Persuasion, which are set in Georgian Bath. The Jane Austen Centre also runs an annual and extremely popular Jane Austen Festival, which holds the Guinness World Record for the largest gathering of people dressed in Regency costumes.
Address: 40 Gay Street, Queen Square
E-mail: curator@janeausten.co.uk
Website: www.janeausten.co.uk
Telephone: (0)1225 443 000
Transport: Regular coach drop-offs in Queen Square, which is very close to the Jane Austen Centre. If travelling from London, take a train from Paddington Station to Bath Spa (a journey time of 70 minutes)
Opening times: Summer (2 April to 30 October): Open daily, from 9.45am to 5.30pm. Winter (1 November to 1 April): Open Sunday to Friday from 11am to 4.30pm, and on Saturdays from 9.45am to 5.30pm.
Admission: £7.45 (adults), £5.95 (seniors and students), £4.25 (children)