Bodleian Library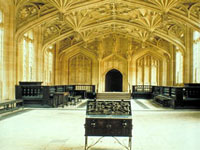 Chief among Oxford's many academic and architectural attractions is the unique Bodleian library, which is spread throughout several buildings across the city. The central core of this collection of buildings is set in Radcliffe Square, and includes the historic Duke Humfrey's Library, dating from the 15th century, and the gothic Divinity School with its magnificent vaulted ceiling, which is open to the public. Only members can use the reading rooms of this library, which contains a copy of every book printed in Britain since 1610, and no books are ever loaned out. Guided tours are available to view the main buildings.
Address: Central Bodleian site is off Broad Street, in Radcliffe Square
E-mail: tours@bodley.ox.ac.uk
Website: www.bodley.ox.ac.uk
Telephone: (0)1865 277 224
Opening times: Open Monday to Friday from 9am to 5pm, Saturday from 9am to 4.30pm, and Sunday from 11am to 5pm.
Admission: £6.50 for the standard tour, which lasts an hour