Le Marche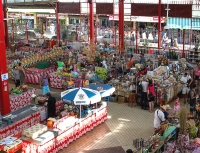 Le Marche © UnknownNet Photography
The vibrant heart of Papeete is its fascinating public market, where for more than 150 years traders have touted a vast array of exotic goods, from Tahitian arts and crafts, to fragrant oils, flowers, fruit, straw hats, seashell jewellery and pareus (sarongs).
Held daily, the market offers different attractions at different times: the atmosphere is colourful and lively in the late afternoon when the day's catch is brought in from the fishing boats; while the freshest flowers and produce is to be had early in the morning; on Sunday mornings many island families do their weekly shopping.
Visitors should explore both levels of the market, and the coffee shop on the second floor makes a great place to sit and relax (it also has internet).
Address: Two blocks from the Papeete waterfront, opposite the cruise-liner dock