Tallinn Zoo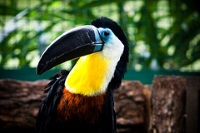 Tallinn Zoo © Lassi Kurkijärvi
Tallinn's popular family attraction is an enchanting space filled with close on 6,000 animals from Polar bears to Siberian Tigers, as well as species from warmer climates, like crocodiles and chimpanzees frolicking in the Tropical House. Visitors can really make a day of this attraction, as there is more than enough variety to suit all tastes and when you tire of walking between exhibits, the zoo has some comfortable restaurants for its patrons to relax and refresh.
To entertain the children, there is also a delightful petting zoo, and to get better acquainted with the Zoo there are guided tours that discuss either general topics or a more specific theme.
Address: Paldiski Maantee 145
Website: www.tallinnzoo.ee
Transport: By bus (stops Zoo, Karikakra or Nurmenuku) or by car.
Opening times: Open daily 9am-5pm (November to February), 9am-7pm (March to April and September to October) and 9am-8pm (May to August).
Admission: EUR 8 for adults May to September, EUR 5 October to April, concessions available.