Kadriorg Palace and Park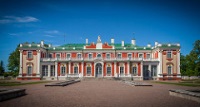 Kadriorg Palace © Mike Beales
The beautiful pink baroque Kadriorg Palace was the summer residence of the Russian Tsar Peter the Great. It stands proudly in the centre of its namesake seaside resort suburb of Tallinn, where the streets are lined with noble villas and summer estates. The Palace today houses the Estonian Art Museum's foreign collection, which features thousands of western European and Russian works from the 16th to 20th centuries, ranging from prints and paintings to sculpture and furniture. The palace is also the venue for concerts, theatrical performances, lectures and receptions. The park surrounding the palace is a popular recreational spot for visitors and locals alike, consisting of formal gardens and the symmetrical Swan Lake, as well as meadows and forest groves traversed by paths.
Address: Kadriorg Park Authority A. Weizenbergi 26A, 10127 Tallinn
Website: www.kadriorupark.ee
Telephone: +372 601 4548
Transport: By tram (line 1 or 3) or by car.
Opening times: Tuesday and Thursday to Sunday 10am–6pm, Wednesday 10am–8pm (May to September), and Wednesday 10am–8pm, Thursday to Sunday 10am–5pm (October to April).
Admission: EUR 6.50 for adults, concessions available.