Estonian Open Air Museum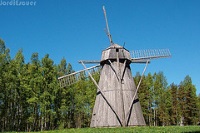 Open Air © Andreas Hunziker
This enchanting collection of historic Estonian buildings lies in a picturesque expanse of forest on Kopli Bay. Transplanted from around the country to represent rural life through the centuries, it exhibits various farm buildings, windmills, watermills and other country clutter, offering a pleasant and informative escape from the nearby city. Handcrafts are on sale, horseback rides are on offer, and a village inn caters for visitors keen to sample local fare. Folk music and dancing displays are scheduled regularly, and most national holidays are celebrated here in grand style.
Address: Vabaõhumuuseumi tee 12
Website: www.evm.ee
Telephone: +372 654 9100
Transport: By bus (Rocca al Mare stop) or by car.
Opening times: Open daily from 10am to 8pm during summer, and 10am to 5pm during winter.
Admission: EUR 10 in summer, EUR 8 in winter, concessions available