Estonian Open Air Museum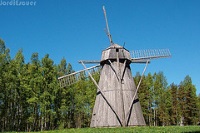 Open Air © Andreas Hunziker
On a picturesque expanse of forest parkland on Kopli Bay is preserved a collection of historic Estonian buildings, transplanted from around the country to represent rural life through the centuries. Exhibits consist of various farm buildings, windmills, watermills and other country clutter offering a pleasant and informative escape from the hubbub of the nearby city. Handcrafts are on sale, horseback rides on offer, and a village inn caters for visitors keen to sample local fare.
Folk music and dancing displays are scheduled regularly, and most national holidays are celebrated here in grand style.
Address: Vabaõhumuuseumi tee 12
Website: www.evm.ee
Telephone: (0) 654 9100
Transport: By bus (Rocca al Mare stop) or by car.
Opening times: Open daily from 10am to 8pm during summer, and 10am to 5pm during winter.
Admission: EUR 9 in summer, EUR 7 in winter, concessions available