J.R. O'Neal Botanical Gardens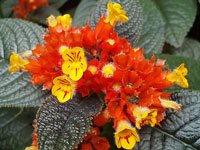 Caribbean flowers © Mary-Lynn
The splendid four acre gardens in the centre of Road Town, Tortola, are a must for those interested in the tropical flora of the Caribbean islands. Pathways wind beneath floral pergolas, through a mini rainforest and past a lush variety of exotic, indigenous plants, waterfalls and ponds. Other attractions include the different tropical bird species and red-legged tortoises that have made the gardens their home. If you are there at the right time you will be lucky enough to see baby tortoises.
The gardens are maintained and developed as part of the British Virgin Islands' National Parks system. There is a great colour guide available so that you can get some insight as you wander around at your leisure. The J.R. O'Neal Botanical Gardens are a great place to get a break from the heat on the beaches and enjoy some shade and a taste of the lush flora found in the mountainous inland regions. The gardens may not be as big as some people are used to, but they are extensive enough to allow you to lose yourself for an hour or so admiring the plants and listening to the birdsong, or simply sitting on one of the many shaded benches and nursing your sunburn.
Address: Station Avenue, Road Town.