Santa Claus Village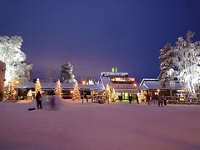 Santa Village © Timo Newton-Syms
Many people choose to take an excursion out of Helsinki to visit Santa's Village, which is a popular daytrip encouraged by trains to Rovaniemi where it is located. It's Christmas every day of the year in the rather commercialised (but quaint) 'Santa's secret hideaway' in Lapland, northern Finland, where the redoubtable Mr Claus spends his time preparing gifts for the world's children, and meeting and greeting an estimated 500,000 delighted visitors a year.
Coincidentally, the valley inside the Arctic Circle where Santa's Village is set is shaped like an ear, so it is said that Santa can listen to all the children of the world. At the village all sorts of activities are on offer at Santa's office, the reindeer park and the Santa Park theme park, and of course you can use Santa's personal post office to mail a letter or card home with the coveted postmark. The highlight of any visit, though, is of course meeting the great man himself, and whispering your wishes into his friendly ear.
There are beautiful Christmas decorations on sale here as well and plenty of opportunities for present shopping. Santa's Village and Santa Park are located just a mile from the international airport of Rovaniemi (capital of Lapland), and is also accessible by bus or train from Helsinki.
Website: www.santaclausvillage.info