South Carolina Aquarium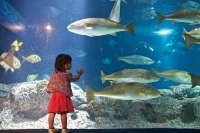 South Carolina Aquarium © Harry Alverson
Charleston's most visited attraction, the South Carolina Aquarium features thousands of amazing aquatic animals. These include river otters, sharks, and loggerhead turtles in over 60 exhibits, representing the rich biodiversity of South Carolina from the mountains to the sea.
The aquarium also affords visitors fabulous views of Charleston Harbor, while daily interactive exhibits and programmes for guests of all ages. Every visit reveals something new, with glimpses of new animals, budding plants, baby animals, and more.
The institution provides a variety of opportunities to learn about conservation, animal life, endangered species, and environmental issues. It also houses creatures from further afield, with different exhibits illustrating various habitats.
South Carolina Aquarium is also involved in a few initiatives, such as Good Catch. Organisers hope to foster awareness in the community around responsible harvesting and consumption of local seafood. They work with restaurants, fisheries, and caterers, in an attempt to protect the ocean.
Address: 100 Aquarium Wharf
Website: www.scaquarium.org