Charleston Museum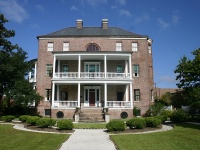 Joseph Manigault House © Matt Howry
Founded in 1773, the Charleston Museum opened while the United States was still a British colony. It encompasses three historic buildings, aiming to preserve the unique culture and natural history of Charleston and the surrounding South Carolina Lowcountry.
Exhibitions include cultural, historic, and natural artefacts, alongside two National Historic Landmark houses: the Heyward-Washington House and Joseph Manigault House. They are good representations of the graceful architecture and wealthy lifestyles of days gone by.
Daniel Heyward built the Heyward-Washington House for his son, Thomas Heyward, who was among those who signed the Declaration of Independence. George Washington stayed here during a weeklong visit to Charleston, giving the house its name.
Joseph Manigault House is a clear example of Federal architecture, influenced by the French Huguenots who moved to America to escape religious persecution. Both houses are furnished and decorated to appear as they would have done in the 1700s.
Address: 360 Meeting Street
Website: www.charlestonmuseum.org