Charleston Museum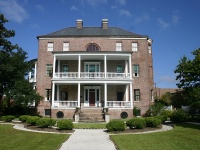 America's first museum, the Charleston Museum was founded in 1773 while the United States was still a British colony, inspired by the opening of the British Museum in 1759. Encompassing three historic buildings, the museum aims to preserve the unique culture and natural history of Charleston and the surrounding South Carolina Lowcountry. Exhibitions include cultural, historic and natural history artefacts and alongside are two National Historic Landmark houses, the Heyward-Washington House and Joseph Manigault House, which depict the graceful architecture and wealthy lifestyle of southern life in days gone by. The exhibitions cover a wide range of daily life topics, such as clothing, and the museum has a particularly good permanent textile collection on display.
The Joseph Manigault House is a good example of Federal architecture, influenced by the French Huguenots who moved to America to escape religious persecution. The house is furnished with pieces from the museum's collection, bith French and American, and is made up to look exactly as it would have it the 1700's. The Heyward-Washinton House was built by Daniel Heyward for his son, Thomas Heyward, who was amongst those who signed the Declaration of Independence. George Washington stayed here during a week-long visit to Charleston, creating the hou'se name. The house is also furnished and decorated to appear as it would have done in the 1700's.
Address: 360 Meeting Street
E-mail: info@charlestonmuseum.org
Website: www.charlestonmuseum.org
Telephone: (843) 722 2996
Opening times: Year round Monday to Saturday 9am to 5pm, Sunday 1pm to 5pm. The Heyward-Washington House and Joseph Manigault House are open Monday to Saturday 10am to 5pm, Sunday 1pm to 5pm. The museum is closed on major holidays.
Admission: Museum only: $10, Museum and both houses: $22. Children aged 3-12 pay $5