Place Royale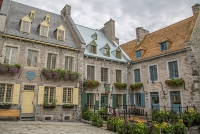 Place Royale © Tony Webster
The site of the historical Place-Royale complex was used in ancient times for trading by the First Nations, until the leader of the first Quebec French settlement, Samuel de Champlain, constructed a formal fortified fur trading post in 1608.
The trading post flourished and grew into a thriving town, constructed largely of wood until it was destroyed by fire in 1682. Reconstruction was in fire-resistant stone, accounting for the buildings that still stand today. Known as the market square, the site once again became a hub of activity, until the end of the 19th century when its importance declined.
By 1950, the Place-Royale was a neglected and decaying area. The Government then initiated a restoration programme that has turned this historic site, known as the 'birthplace of French America', into one of the city's main attractions. It features a clutch of interesting museums, living history demonstrations, and tours of historic buildings.
Address: Interpretation Centre of Place-Royale, 27 Rue Notre-Dame
Website: www.mcq.org