Old Port of Montreal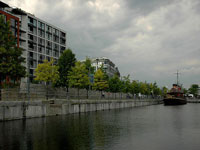 Montreal's Old Port (Vieux Port de Montreal) is actually fairly new, having had a major face-lift to make it the most popular site for visitors to the city, drawing five million of them each year to throng the bustling wharves. In the 19th century the port of Québec on the St Lawrence was one of the most important in the world, with thousands of ships and sailors passing through. There are still plenty of boats in evidence but nowadays they are mainly tour boats, ferries and even amphibious buses, which offer trips along the St Lawrence or around the port. Ferries cross to the Parc des Iles, site of the Expo 67 world's fair, which lies in the St Lawrence and offers facilities for picnicking, swimming, and skating and skiing in winter.
The Old Port itself is a thriving arts and entertainment venue where something is always happening. It also offers a huge open-air skating rink, Imax cinema, and a Science and Technology Center with interactive displays. The port also has a vibey cafe culture. The clock tower offers excellent views across the city and contains an exhibition that traces Montreal's history. Around the port are the city's original 17th-century fortifications, while characters in period costume conduct guided tours through the streets and alleys pointing out the points of historic significance.
Address: 333 Rue de la Commune Ouest
Website: www.vieux.montreal.qc.ca