Dubai Souks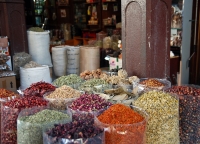 Spice Souk © Jenny Salita
The souks, or traditional markets, are popular with bargain hunters as well as sightseers and photographers. The most famous is the Gold Souk, where the narrow streets are lined with shops selling everything golden, from 24-carat bars to rings and elaborate necklaces, and all at low prices. The tiny lanes of the traditional spice souk are scented with sacks of cinnamon, incense, spices, and dried fruit, while the modern fish souk bustles with activity and is redolent with smells of a more unpleasant nature. At the heart of the Bur Dubai souk lies Al Fahidi Street, selling the latest electronics, photographic equipment and home appliances at competitive prices. Other streets sell everything from materials and carpets to traditional coffee pots, loaves of unleavened bread and hubble-bubble pipes.
Address: Both sides of the Creek, in Deira and Bur Dubai
Website: www.dubaisouks.net/
Opening times: Daily 7am-12pm and 5pm-7pm; Fridays 5pm-7pm.
Admission: Free Free