Dallas Holocaust Museum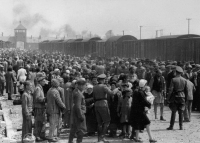 Remembering the Holocaust © Yad Vashem
The Dallas Holocaust Museum, Centre for Education and Tolerance, is a non-profit organisation dedicated to teaching the lessons of the Holocaust and memorialising its victims. It provides guided tours for groups, audio tours for individuals, public lectures and exhibits.
The current exhibitions at the museum's temporary location focus on the role of the bystander in the Holocaust. The exhibition portrays in detail three different bystander actions, all on the same day during World War II, and in this way brings to light both the courage and the indifference displayed in response to the Holocaust. The museum also contains archives and a library, and a Garden of Rememberance and Tolerance designed by a boy scout.
Originally situated in the Jewish Community Center, the museum has relocated to a larger premises in the centre of Dallas' historical district, adjacent to the Sixth Floor Museum, due to lack of space and having to turn away thousands of visitors each year. But even this is a temporary measure as an even larger museum is planned, which will be a powerfully symbolic structure to support its profound educational message.
Address: 211 N. Record Street, Suite 100
Website: www.dallasholocaustmuseum.org