Bo-Kaap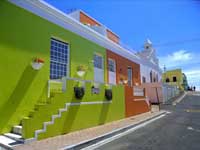 Bo-Kaap, Cape Town © SATOUR
The Bo-Kaap, or the old Malay Quarter, was declared an exclusive residential area for the Muslim Cape Malays under the Group Areas Act of 1950, during the Apartheid years, forcing people of other religions and ethnicity to leave. The Cape Malay population of Cape Town has a fascinating and sad history; the term 'Cape Malay' was originally used to describe the slaves from Malaysia, Indonesia and various African countries who were imported to the Cape of Good Hope by the Dutch during the 16th and 17th centuries (rather than just to describe Malaysian slaves). Today the area is still closely associated with the Muslim community and has a distinct and vibrant character all its own. The houses have been restored and colourfully painted, and the steep cobbled streets, mosques, minarets and blend of Cape Dutch and Edwardian architecture make it one of the most interesting historical and cultural areas of the city. The Bo-Kaap Museum on Wale Street documents the history of the Cape Malays. The museum represents the furnished home of a 19th-century Malay family but is in the process of a renovation which will give more of a socio-political overview of the area. The Bo-Kaap is a great favourite with photographers and its charm ensures that it is the frequent subject of Cape Town postcards.
Address: Museum: 71 Wale Street, Bo-Kaap, Cape Town
Website: www.iziko.org.za/museums/bo-kaap-museum
Telephone: Bo-Kaap Museum (021) 481 3939
Opening times: Museum: Monday to Saturday 10am to 5pm.
Admission: Museum: R20 (adults) R10 (children aged 6 to 18).