Gyeongbokgung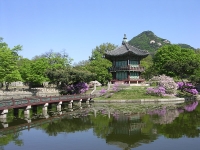 Gyeongbokgung © Joon-Young, Kim
The jewel of Seoul's five historic palaces, Gyeongbokgung was built in 1395 by Lee Seong-Gye. Founder of the Joseon Dynasty, he established the city as the capital of Korea. The magnificent rectangular palace now contains the National Museum of Korea and National Folk Museum of Korea, featuring royal apartments and staterooms, gardens, and elegant lotus ponds.
The pavilion features on the 10,000 South Korean won note. The palace is in a process of continual restoration as new archaeological treasures are uncovered and restored to their former glory. This historic palace complex consistently ranks as one of the best loved tourist attractions in Seoul.
Address: 1 Sejong-no, Jongno-gu
Website: www.royalpalace.go.kr
Transport: Five-minute walk from exit 5 of Gyeongbokgung station (Seoul Subway Line 3)
Opening times: The palace's operating hours are generally 9am to 6pm but these times can change depending on the season. Check website for details.
Admission: KRW 3,000 for adults (19-64) and children (7-18) KRW 1,500. Children 6 and under, and people over 65, are free.