Namsan Park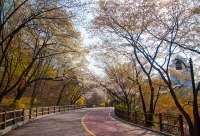 Namsan Park © Jordi Sanchez Teruel
Namsan is the mountain that stands as a sentinel in the centre of Seoul, proving to be a popular recreational feature in the city. The route through to the top is not extremely high and hiking through the park isn't too challenging.
A cable car and stairway take visitors to the summit, where there are several attractions such as the Maritime Aquarium, botanical gardens, and fountains. Seoul Tower, at 1,575ft (480m), offers a fantastic view of the city and surrounds, as does its revolving restaurant.
Also set within the park, the Namsangol Hanok Village centres on five restored historical Korean homes. Depicting the environments of various social classes from the Joseon Dynasty, the village is a time capsule with a peaceful pond and pavilion set in the midst of the city.
Visitors can not only explore the houses, but also enjoy traditional tea, shop for souvenirs, browse traditional crafts, or try their hand at ancient games like neolttwigi (jumping on a see-saw) or arrow throwing. On weekends in summer, traditional wedding ceremonies are held at midday.
Address: 100-177 Hoehyeon-dong 1-ga Jung-gu
Website: www.nseoultower.co.kr/eng/index.asp
Transport: A 10-minute walk in the direction of Lila Elementary School from Myeong-dong Station on Seoul Subway Line 4 (Exit 2 or 3)
Opening times: The park's operating hours are generally 10am to 11pm but these times can change depending on the season and weather conditions. Check website for details.
Admission: Admission varies depending on attraction