Incheon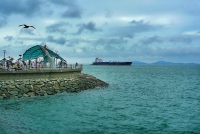 Incheon © travel oriented
Hop on a bus and visit Incheon, a major Korean port city on the West Sea. About an hour from Seoul, the surrounding irregular coastline and mountainous inland terrain provide a popular outdoor playground. While Incheon is home to an international airport, this doesn't stop it from being a charming little city surround by rice fields.
Since the days of the Joseon Dynasty, the city has been famed for its therapeutic hot springs and the downtown hotels all operate public bath facilities and swimming pools. Visitors bathe in the spa waters, hoping to enjoy relief from skin ailments, eye problems, neuralgia, and gynaecological disease. In the Incheon Ceramics Village, there are hundreds of studios and shops with kilns producing traditional porcelain.
Transport: Buses depart for Incheon from Dongseoul Express Bus Terminal and from Gangnam Express Bus Terminal.