Capitolio Nacional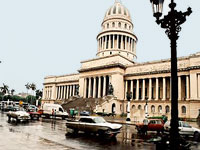 Capitolio, Havana © Judith Duk
One of Havana's grandest pieces of architecture, the Capitolio is an important landmark and one of Centro Habana's major touristic sights. It was designed to resemble the US Capitol in Washington DC, and the similarity is obvious. A monumental stone stairway leads to the vast domed hall, from where tours will take visitors beyond the doors to elaborately decorated chambers that once housed the seat of Cuban Congress.
Today, it is home to the National Library and Academy of Sciences, and many of its rooms are still used for state events. It also houses a planetarium and a museum. Directly beneath the dome lies an imitation 24-carat diamond set into the marble floor, from where all highway distances between Havana and all sites in Cuba are measured.
The building is today a bit rundown and the inside is often closed for renovations. Even so the outside makes a great photo spot. The area is a hot spot for vendors, artists and beggars which can make it interesting but be sure to watch your belongings carefully.
Address: Paseo de Marti, Centro Habana