Museo Nacional de Bellas Artes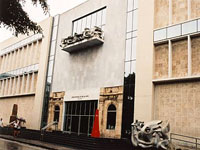 Bellas Artes Museum © Judith Duk
The Bellas Artes Museum was founded in 1913 and is now split into two buildings, both architecturally interesting and impressive, housing International and Cuban art respectively. Both fine art collections are worthy of detailed exploration and should delight any visitor interested in art.
The Colección de Arte Universal covers everything from ancient Greek artefacts and Latin American pieces to art by French, Dutch and Italian painters, and includes work by masters such as Gainsborough, Goya and Rubens. The Colección de Arte Cubano is also outstanding and covers works from the 16th to the 20th centuries by prominent Cuban artists.
The Cuban galleries have rooms dedicated to religion, landscape, portraits and scenes from Cuban life. Of course, the hyperrealism of the revolution and post-revolution years is also prominent and this has probably become the style of art most associated with modern Cuba. Famous paintings in the contemporary section include Gitana Tropical by Victor Manuel Garcia (the 'Cuban Mona Lisa') and El Rapto de las Mulatas by Carlos Enriquez.
Address: Corner of Calle Trocadero (between Calles Zulueta and Monserrate) and Calle San Rafael (between Calles Zulueta and Monserrate)