Museo de la Ciudad (Museum of the City)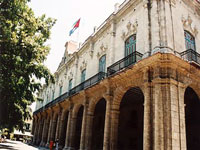 Museo de la Ciudad, Havana © Judith Duk
Built in 1791, the stately Baroque residence of Cuba's colonial governors and former Presidential Palace, the Palace of the Captains General, stands as an impressive sight on the Plaza de Armas and is now the repository for the city's primary museum collections. The building itself is truly wonderful, with a central courtyard containing a white marble statue of Christopher Columbus. It has been beautifully restored and by itself justifies the entrance fee.
The museum's displays and exhibits tell the tale of Havana, from its founding to the present day, including rooms devoted to the Cuban wars for national independence. The colourful Hall of Flags contains the original Cuban flag, as well as a number of others used by the Spanish colonial government. There are also exhibits relating to archaeology, folklore and weaponry, and an art collection that includes porcelain, paintings and furniture of historic value and great beauty.
The treasures are varied and interesting but a guided tour does help supplement the labels which are not comprehensive. Visitors should note that there have been reports of the museum attendants trying to hustle tourists out of money by offering to take photos for them, so be aware that they may approach you.
Address: Calle Tacón, Plaza de Armas, Habana Vieja