Plaza de la Revolución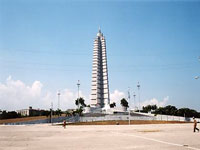 Revolution Plaza © Judith Duk
The Plaza de la Revolucion is a famous landmark in Havana. The gigantic square, which is dominated by the imposing José Martí Memorial, has provided the setting for numerous political rallies, and the podium in front of the memorial is where important political figures, like Fidel Castro, have addressed more than a million Cubans on important occasions, such as 1 May and 26 July each year.
At the foot of the memorial is a museum dedicated to José Martí, a national hero who would most likely have become Cuba's first president had he survived the Second War of Independence in 1895. It is possible to take the elevator to the top of the 138-foot (42m) memorial, the highest structure in the city, to see some great views of Havana and get some photographs. Located behind the memorial are the closely guarded offices of Castro.
Opposite the memorial, on the far side of the square, is the much-photographed Che Guevara image with the slogan Hasta la Victoria Siempre (Forever Onwards Towards Victory), that identifies the Ministry of the Interior building. The square is worth a visit if for no other reason than the important role it has played in Cuban history.