Playas del Este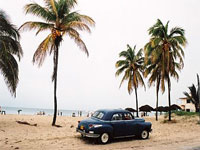 Playas del Este © Judith Duk
Twenty-five minutes east of Havana are the Playas del Este, a chain of sandy beaches stretching for six miles (10km) between Bacuranao and Guanabo. On the weekends, they are generally packed with Cubans escaping the city.
There are a few tourist hotels lining the coast, but other than that facilities are limited. For those who need an escape from the city the beaches make a good day trip; however, those expecting pristine tropical island beaches might be disappointed. The ocean is still unbelievably inviting, with clear, warm turquoise water, but the beaches themselves tend to suffer from all the rubbish left by the crowds.
During the week the beaches are much quieter and cleaner so that is the time to go if you want a solitary, peaceful experience. There are a number of pristine 'tourist' beaches in Cuba but the Playas del Este are fun because they offer a more genuine experience of the festive Cuban beach lifestyle; if you want to mix with locals and enjoy people watching then this is the perfect place to park your towel. There are usually lots of vendors selling food and beer at reasonable prices on these beaches and people are generally very friendly.
Address: Ave Las Terrazas e/11 y 12, La Habana del Este