Gran Caverna de Santo Tomás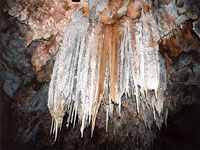 Santo Tomas caves © Judith Duk
Cuba's largest cave system, with more than 29 miles (46km) of underground galleries spanning eight different levels, the Santo Tomás caves are situated about 10 miles (16km) west of Vinales.
Very informative, 90-minute guided tours take visitors 138 feet (42m) above the valley floor into the sixth gallery, where fantastic limestone formations, glittering stalactites and stalagmites, underground lakes and vast caverns are revealed by the light of headlamps. You may be taken to level seven as well but unless you are an advanced caver you will most likely be limited to these two levels; the entrances to levels six and seven are semi-hidden on a forested slope overlooking the valley and they provide wonderful vantage points for views and photographs.
The cave system includes a tiny museum and visitor centre but for the most part the caves have been kept in their natural state, avoiding the tourist traps of electrical lighting and souvenir stands. In accordance with this lack of commercialisation, the place is refreshingly devoid of large crowds and tour groups which allows for a more mysterious and authentic tour than is usually possible in famous cave systems.
Address: El Moncada, 11 miles (17km) west of Vinales village