Museo Romántico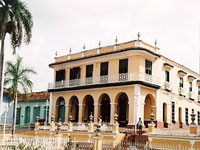 Museo Romantico © Judith Duk
Trinidad has a number of museums housed in colonial mansions, but one of the best is the beautifully renovated Museo Romántico overlooking the main square, Plaza Mayor. The Plaza Mayor is the historic centre of Trinidad and has been declared a UNESCO World Heritage Site. The mansions, or palaces, that surround the square date back to the 18th and 19th centuries when trade in sugar and slaves brought great wealth to the area.
The Museo Romántico, or Brunet Palace, was built in 1812 by the wealthy Borrell family but it takes its name from the Brunet son-in-law who took over the house. The museum displays mostly the belongings and personal collections of these two grand families and boasts an excellent exhibition of paintings, decorative furniture and porcelain from the 1830s.
The mansion itself is the main attraction, however, with the original marble floors still on display and splendid frescoes and neoclassical architecture and decoration. The Plaza Mayor is an un-missable attraction in Trinidad and visitors will do themselves an injustice if they don't explore some of these magnificent old houses, which provide so much insight into a certain period of Cuban history.
Address: Calle Echerri 52