Museo Histórico Municipal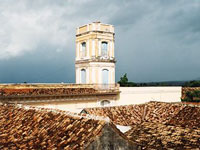 Museo Historico Municipal © Judith Duk
This neo-classical mansion belonged to one of the richest families in Cuba, the Borrell family, between 1827 and 1830 but it was bought by German sugarcane plantation owner Justo Cantero, a controversial figure in local gossip. The mansion, now a museum, is still called Casa Cantero.
The grandiose house, just off Plaza Mayor, is in itself the main attraction, with beautiful wall murals depicting classical scenes and splendid decor in the rooms. Apart from the cool, stylish rooms, the museum also displays some exhibits relating to the sugar industry and history of Trinidad, including collections of weaponry, furniture, art and important documents.
One of Casa Cantero's most popular attractions is the superb view that can be seen from the mansion's tower - from here you can see wonderful vistas of Trinidad and the Escambray Mountains. This view alone will more than justify the entrance fee for photographers. The museum starts getting crowded after 11am, when the tour buses arrive, so it is best to visit early in the morning to enjoy the charm of the place.
Address: 423 Simón Bolívar