Ancón Beach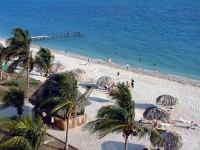 Playa Ancon © Esteban De Sousa
The soft sand and still, warm waters backed by palm trees make the beach at Playa Ancón a popular excursion from Trinidad. Situated at the end of the peninsula, seven miles (12km) south of Trinidad, Playa Ancón offers watersports and some good offshore snorkelling and diving sites. The colourful coral, rock tunnels and other exciting features of the seabed make this beach a scuba divers playground.
Visitors can take a yacht out into the ocean for a swim, or hire boats to explore the coast or go fishing. The beach is famous among locals and travellers alike and the crowds there are a great mix of the two: it can be pleasant to go during the week when it is quieter; but, although it can get crowded during the weekend, it is quite fun watching the locals cavort and it is a good opportunity to mingle and meet people.
Make sure to bring snacks or a picnic because food stalls at the beach are limited and the hotels along the beach front generally only cater for their guests. A lovely way to see the countryside is to cycle from Trinidad to this beautiful beach - passing through a picturesque little village on the way - which is not strenuous.
Address: Seven miles (12km) south of Trinidad