Valle de los Ingenios (Valley of the Sugar Mills)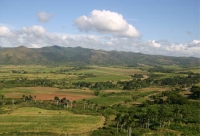 Valley of the Sugar Mills © Wilder Mendez (Lezumbalaberenjena)
This picturesque emerald valley was once the centre of the sugar trade industry in Cuba, and home to the plantations that brought wealth and prosperity to Trinidad in the 18th and 19th centuries. At the peak of the sugar trade there were over 70 sugar cane mills in the valley area and about 30,000 slaves working on the plantations.
Today, the ruins of estates, sugar mills and other remnants are visited by tourists who are attracted by the beauty of the valley and the historical significance of the slave trade that operated during the valley's boom years. The main site is the Manaca Iznaga, a striking 144ft (44m) high tower that was used by a plantation owner, one of the wealthiest men in Cuba, Pedro Iznaga, to keep watch over his slaves working in the fields. The bells in this tower would toll to signal the end of the working day. Visitors can climb the tower for impressive views over the countryside.
Along with Trinidad, the Valle de los Ingenios has been declared a UNESCO World Heritage Site. Horse riding tours to the valley, departing from Trinidad, are a popular way to see the sights and take in the beautiful surroundings.
Address: Carretera de Sancti Spiritus (8km from Trinidad)