Santa Clara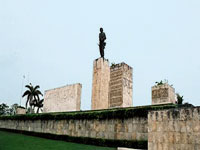 Santa Clara © Judith Duk
Located 55 miles (88km) north of Trinidad, the city of Santa Clara is best known for its Che Memorial at the Plaza de la Revolución, and monuments relating to the Cuban Revolution. The armoured train monument (Monumento a la Toma del Tren Blindado) marks the spot where Che attacked the train, sending Batista's troops to Santiago de Cuba, a battle which was a decisive factor in the victory of the revolutionaries.
The Ernesto Che Guevara Monument was built to pay homage to the memory of Che and his comrades who fought with him in Bolivia, and the enormous monument incorporates a huge statue of Che with his famous phrase Hasta la Victoria Siempre (Forever Onwards Towards Victory), as well as representations of many aspects of his revolutionary life.
To one side of the statue, a huge stone block has been inscribed in full with his farewell letter to Fidel Castro. The monument also includes a mausoleum where the remains of Che and his comrades have been interred, and a museum with displays about his life and involvement in the revolution.