Sancti Spiritus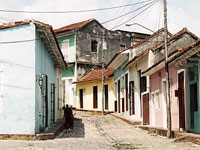 Sancti Spiritus © Judith Duk
The beautiful colonial city of Sancti Spiritus, with its gracious people, delightful architecture and maze of narrow, winding cobblestone streets, remains almost completely detached from the main tourist trail in Cuba. Located in the centre of the country, 43 miles (70km) east of Trinidad, Sancti Spiritus lies on the banks of the Yayabo River, exuding charm, affability and authenticity.
The old town dates back to 1514 and has been declared a National Monument. It is filled with picturesque, colourful little houses with uneven red-tiled roofs and weathered colonial homes. It also boasts the much-photographed green-towered church which dates back to the early 16th century, making it the oldest church in Cuba. Streets are crammed with horse-drawn carriages, bicycles, scooters and pedestrians licking at ice-creams flavoured with a fruit which grows along the banks of the river. Spanning the river is the Puente Yayabo, an arched brick bridge built by the Spanish in 1815, and the city's most famous sight.
The population of Sancti Spiritus is only about 100,000 and its rundown charm and friendly, laid-back people are part of its appeal. It is also renowned to be the home of many famous Cuban singers and musicians so it is worth seeking out some music when you visit.