Stingray City and Sandbar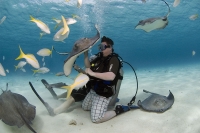 Stingray City and the Sandbar are snorkelling sites located in the North Sound, and are a must-visit for watersports enthusiasts. The clear shallow waters are frequented by friendly stingrays that come to find out what titbits visitors have brought them. Boat tours take snorkellers and divers to swim with and feed the stingrays on bits of squid; they will brush against swimmers and allow themselves to be touched. This famous Cayman attraction was accidentally created by fishermen who used to clean their catch in the calm waters, casting bits overboard, and so attracting the Southern Stingrays to the area.
Swimming with the stingrays is a remarkable experience. Travellers should do their best to ensure, however, that they use only reputable tour operators who have respect for the environment and the animals.
Website: www.caymanislands.ky/activities/attractions/stingraycity.aspx