Masada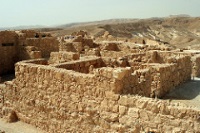 Masada © Ana Paula Hirama
The mountaintop fortress of Masada (sometimes spelled Massada) is one of Israel's most popular and remarkable tourist attractions. Situated in the Judean Desert and overlooking the Dead Sea, this site is where 967 Jewish Zealots rose against Rome in 66 AD, taking their own lives when defeat seemed inevitable. King Herod built the ancient fortress they defended against Roman siege.
Visitors can still explore the ruins of ancient structures and palaces, and see the remains of the most complete Roman siege system in the world. The Roman camps, siege wall and ramp are still clearly visible.
Masada is a UNESCO World Heritage Site and a place of profound interest for military-history buffs. Visitors can reach the top by cable car or by hiking up the Snake Path. From there, they can enjoy breath-taking views of the Dead Sea and the surrounding desert.
The Masada Sound and Light Show recounts this dramatic history with special pyrotechnic effects, and takes place in a natural amphitheatre on the west side of the mountain. The Yigael Yadin Masada Museum is also fascinating.