Anchorage Museum of History and Art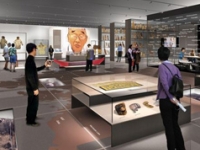 The world-class Museum of History and Art is the largest museum in Alaska and is one of the most visited attractions in Anchorage. The exhibits cover Alaskan history, art and culture, from Native American beginnings to American colonisation.
Address: 121 West 7th Avenue
E-mail: museum@AnchorageMuseum.org
Website: www.anchoragemuseum.org
Telephone: (907) 343 4326, or (907) 343 6173 (recorded information)
Opening times: Daily 9am-6pm (11 May to 21 September); Tuesday to Saturday 10am-6pm, Sunday 12pm-6pm (22 September to 10 May). Closed Mondays.
Admission: $12 Adults, $7 children under 12. Concessions available.