Anchorage Museum of History and Art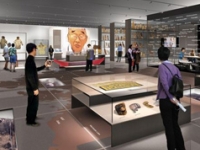 Anchorage Museum of History and Art © Anchorage Museum of History and Art
The world-class Museum of History and Art is the largest museum in Alaska and is one of the most visited attractions in Anchorage. The exhibits cover the history and cultures of Alaska - from Native American beginnings to American colonisation - and explore the natural resources and landscapes of the country. Part of exploring the cultures of the country is exhibiting Alaskan art, and the museum has a good permanent collection and hosts multiple temporary art exhibitions. Art, history and the natural sciences are combined to great effect in this wonderful museum. Visitors of all ages should find something to interest them. Check the official website listed below for details.
Address: 625 C St, Anchorage.
Website: www.anchoragemuseum.org
Telephone: (907) 929 9200
Opening times: Tuesday to Saturday 10am-6pm; Sunday 12pm-5pm. Closed Monday.
Admission: $20 adult, $10 children, other concessions available.