Spier Wine Estate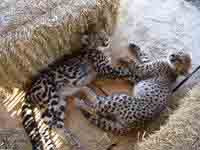 Cheetahs at Spier © Kiran Lalloo
Spier is one of South Africa's most famous and most popular wine estates, also operating as an internationally renowned cultural resort. It offers luxurious accommodation, conference facilities, shopping, fine dining, and a variety of recreational activities, including golf, horse riding, picnics, and a cheetah park.
One can visit Eagle Encounters, where visitors can get up close to some amazing birds of prey. An outdoor amphitheatre traditionally presents a variety of music, theatre, and dance during the Spier Summer Arts Season, seeking to promote, showcase and develop emerging South African talent.
If that is not enough, Spier also claims to have one of the most extensive collections of contemporary art in the country. Situated in the heart of the Stellenbosch winelands region, Spier also boasts world-class wines in what is the oldest working cellar in South Africa.
Together with its other facilities, this is one of the most unique developments in the wine world. Spier makes a great base for those wanting to explore the region, with a number of other wonderful wine estates nearby. It is also extremely pleasant to just visit for some wine tasting or a picnic in the lovely grounds.
Address: R310 Lynedoch Road
Website: www.spier.co.za