Oom Samie se Winkel (Uncle Sam's shop)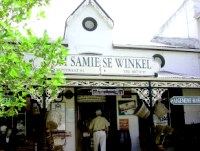 This famous Stellenbosch institution is a shop set back in time, where a huge variety of interesting products can be purchased from shelves crammed with sweets, dried fish, wine, clothing and tobacco. It is well worth a look, if not to buy anything, then to experience how locals traded 200 years ago.
Address: 84 Dorp Street, Stellenbosch
Telephone: 021 887 0797
Opening times: Monday to Friday 8:30am-5:30pm, Saturday and Sunday 9am-5pm.