Afrikaans Monument and Museum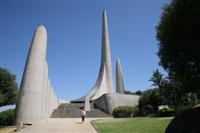 Afrikaans Language Museum © Schavda
The Afrikaans Language Museum pays tribute to a unique language that is little more than 300 years old, created from the melting pot of nationalities and languages in the Cape. The Dutch settlers, French Huguenots, slaves from Malaysia, Indonesia, Madagascar, and West Africa, and the local Khoi people all needed to communicate, and so was born a language that could be used by all.
The struggle to gain recognition of Afrikaans as an official language was carried out from Paarl, and the museum commemorates the people that played an important role in the process, as well as exploring the language in its diversity and learning about the people who speak it today.
Conspicuously absent from the material is the integral role Afrikaans played as the language of the apartheid oppressors.
The Language Monument on Paarl Mountain was erected in 1975 to honour the Afrikaans language and is the only language monument in the world. The contribution to Afrikaans from the Western world, as well as from Africa, are represented by the three linked columns and three rounded shapes respectively, while the 187 foot (57m) pillar symbolises the growth of the language.
There are beautiful views from Paarl Mountain, where the monument is situated.
Address: Museum: Gideon Malherbe House, 11 Pastorie Avenue, Paarl. Monument: Paarl Mountain
Website: www.taalmuseum.co.za