Rorke's Drift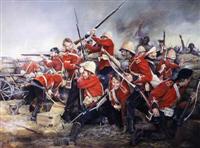 Rorke's Drift © militaryart.com
Fought on the same day as the nearby battle at Isandlwana Hill, the Battle of Rorke's Drift is remembered as one of the most famous sieges of the Anglo-Zulu War. Survivors from Isandlwana fled to the Swedish mission station that was used as a British field hospital and storehouse, and sounded the alarm.
Inside, the 139 men, many of them ill or wounded, barricaded themselves in and prepared for the onslaught of 4,000 Zulu warriors. The Battle Museum dramatically tells the tale of the 'Heroic Hundred' who desperately defended the station for 12 hours, until the Zulus finally retreated with a heavy loss of life.
Seventeen British soldiers and about 500 Zulu attackers were killed in the siege. Eleven Victoria Crosses were awarded to the defenders, not the most ever given at any battle in British history, as is often claimed, but a prestigious honour nonetheless, and the most ever awarded to one regiment in a single action.
It is generally thought that although the courage of the defenders warranted recognition, the awards were also made to distract public opinion from the disastrous British defeat at Isandlwana. Interestingly, just before the Zulus arrived, a number of defenders fled Rorke's Drift and those remaining were so angry at the desertion that they shot after their own men, killing a corporal.
Address: The site is 26 miles (42km) from Dundee, off the R68