Ladysmith Siege Museum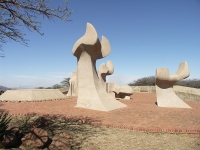 Ladysmith Memorial © NJR ZA
During the South African War, Ladysmith was besieged for 118 days, between 2 November 1899 and 28 February 1900, during which thousands died, either during battle, or from disease and the lack of food and water.
21,000 Boers advanced into Natal from all sides when war was declared between the Boer republics and Britain, and after two notable battles, the Boer forces surrounded the garrison town of Ladysmith where the British commander and his core force were deployed.
The siege was eventually broken by the British and a relief force entered Ladysmith (a force which included a young Churchill), but as with many battles in the war the Boers were not so much defeated as merely voluntarily dispersed, choosing to fight another day rather than face the British reinforcements.
One touching story from this tragic and protracted siege is the tale of how the Boers sent a single unexploded shell into Ladysmith on Christmas day which contained a Christmas pudding and a note wishing the British troops compliments of the season.
The museum is considered to be one of the best Anglo-Boer War museums in the country, with a collection of artefacts, documents, firearms, and uniforms on display, as well as a series of excellent photographs, which vividly tell the story of the siege of Ladysmith that involved numerous battles between the Boer and British forces.
Address: Murchison Street, Ladysmith
Website: www.battlefieldsroute.co.za/place/ladysmith-siege-museum