Fort William Historical Park (formerly Old Fort William)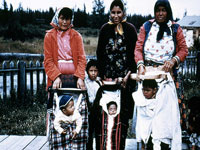 Ontario fur trade © Don Pugh
Visitors can travel back to 1816 at Fort William Historical Park (formerly Old Fort William). Located at Thunder Bay, it is an authentic duplicate of the North West Company of Montreal's inland headquarters. The company was a major player in the fur-trading business.
Indeed, the North American fur trade is a part of Canada's colourful past. The fort brings this history to life through recreations of the characters, sounds, sights and smells that would have existed almost two centuries ago. The sprawling 250-acre site contains more than 57 heritage and modern buildings, which visitors are free to explore.
Visitors can also enjoy overnight experiences, education programs, artisan workshops, conferences, banquets, festivals and recreational opportunities.
Address: 1350 King Rd
Website: www.fwhp.ca