Riyadh Museum of History and Archaeology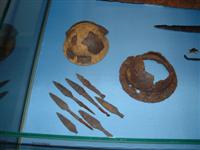 This museum, chief among the numerous museums in Riyadh, showcases local art, religion and culture, as well as the diverse and intriguing history of the Arabian kingdoms, in eight sections. Artefacts such as clothing, weapons, jewellery and musical instruments, dating as far back as the Stone Age, are on display. Unlike most attractions in Riyadh, the museum charges a small entrance fee.
Other city museums worth visiting are the National Museum, which contains ancient documents and furniture; the King Abdulaziz Military Museum; and the Museum of Antiquities and Folklore.
Address: West of the old city centre, Al-Bathaa
Telephone: (0)1 419 1210