The National Museum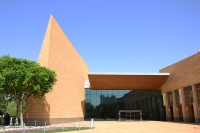 National Museum © Sammy Six
This museum, chief among the numerous museums in Riyadh, is truly worth visiting. Incorporating local art, religion, and culture that explore the diverse and intriguing history of the Arabian kingdoms, the National Museum sees many visitors each year. Artefacts such as ancient documents, furniture, weapons and more, dating as far back as the Stone Age, are on display. Unlike most attractions in Riyadh, the museum charges a small entrance fee.
Other city museums worth visiting are the King Abdulaziz Military Museum and the Museum of Antiquities and Folklore.
Address: King Abdul Aziz, Historical Center
Website: www.nationalmuseum.org.sa
Telephone: +966 11 402 9500
Opening times: Saturday to Thursday 8am-8pm, Friday 4pm-8pm.
Admission: SAR10 adults, free for children and students.