Al Musmak Castle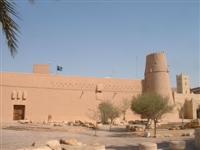 Al Musmak Castle © Baptiste Marcel
An important landmark and heritage site in the city of Riyadh, the Musmak fortress was built around 1865 and is the site associated with the foundation of the Saudi Arabian kingdom as the original stronghold of King Mohammed bin Abdullah bin Rasheed. The castle is open to the public, who can explore its impressive rooms, pillared mosque, gate, watchtowers and well.
Address: Al-Bathaa, city centre
Opening times: Saturday to Thursday 8am-12pm and 4pm-9pm. Men only on Saturday, Monday and Wednesday. On the other days women may visit accompanied by male family members.
Admission: Free