Al Murabba'a Historical Palace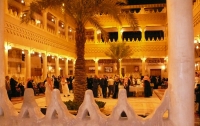 Al Murabba'a Historical Palace courtyard © Des Runyan
Just outside the original city walls, is the spectacular Al Murabba'a Historical Palace. Built in the early 1900s, the palace originally functioned as the private accommodation for the king of Saudi Arabia.
Now a principal component of the King Abdulaziz Darat, an institute and library devoted to preserving Arabian history, the palace has been preserved as a living example of Arabian royal life in days gone by and is a site history lovers enjoy year after year. On the ground floor are the guard's room and storerooms, while upstairs visitors can view the reception salons, political offices, and private apartments.
Address: Khazzan Street
Website: www.arriyadh.com/Eng/Tourism
Opening times: Weekly 8am-3pm, closed on weekends.