Blue Lagoon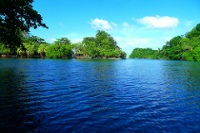 Blue Lagoon © keatssycamore
This sheltered cove was made famous by 14-year-old Brooke Shields in the film Blue Lagoon. It is one of the most scenic spots in Jamaica, and is Port Antonio's most celebrated attraction. The lagoon is only a 20-minute drive from Port Antonio, and some people choose to hike the distance.
The attraction was renamed in honour of the movie which made it famous and was originally called the Blue Hole (you may still see the old name on sign posts). It is fed by underground mineral springs, and is believed by many to be bottomless, although divers have discovered that it is about 185 feet (56m) deep. Surrounded by steep, green hillsides, the Blue Lagoon is a wonderful place to swim if one chooses to ignore the tales of sea monsters deep below the surface that are circulated by locals.
The colour of the water, which is the lagoon's most alluring feature, changes throughout the day depending on light and weather and makes for some stunning photographs. It is also interesting to feel the mixture of the warm water from the Caribbean and the icy cold water from the underground springs. The attraction is free but you will probably need to hire a local boatman to paddle you around and take you to the best swimming spots. Note that there are no facilities at the Blue Lagoon.