Reach Falls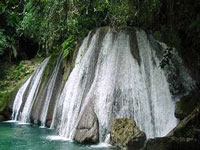 Reach Falls, on the Driver's River, is a strong contender for the epithet of 'most beautiful place in Jamaica' - and is certainly the island's loveliest set of natural waterfalls. A series of cascades tumble into pool after pool of clear, green water, and the main falls thunder into a pool deep enough to dive into. The vegetation on the banks is lush and beautiful and the area remains quite pristine despite its popularity. You must have a tour guide to explore the falls but this is hardly a hindrance for those who like adventuring on their own and most guides will allow you plenty of privacy and time to enjoy the various pools and sights. There are some amazing caves to clamber through at the top of the series of falls. If you want to opt out of any of the more adventurous activities - like caving and rock jumping - you can easily just by-pass these features on foot. If you like to feel like you have the place to yourself then try to visit on a week day when it is usually quite empty. You can start your tour at various points and most people recommend that you don't begin at the main entrance - it's best to enquire about tour guides and options at your hotel so that you can work out what would be best for you, but, it's also easy to find a guide if you just show up.
Address: Two miles (3km) from Manchioneal town centre
Admission: US$10 (not including tips for guides).