Rio Grande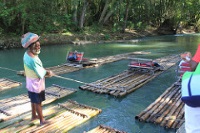 River Rafting © monika.monika
The Rio Grande has been used since 1911 as a means of transporting goods by bamboo rafts from the Rio Grande Valley to St Margeret's Bay. Today, bamboo rafting trips are a major tourist attraction, offering an experience that showcases the natural beauty that the Portland area has to offer.
Trips last between two and three hours, and the 30-foot (9m) rafts can carry two passengers and are steered by skilled raftsmen who also act as guides. Rafts can be boarded at Berrydale or Grant's Level and end at the mouth of the Rio Grande at St Margaret's Bay.
The guides are extremely knowledgeable and encourage questions and conversation - they may even give lessons in managing the raft. Swimwear is a must for some great swimming opportunities. A very popular addition to this rafting experience is a meal cooked on the riverbank over open fires at Belinda's Restaurant.